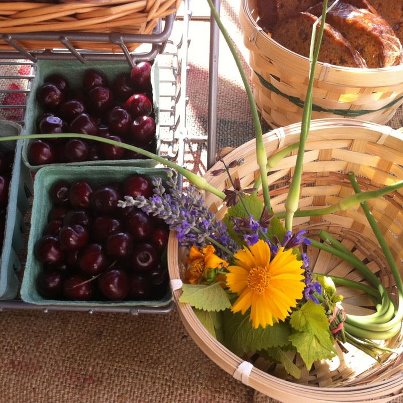 Food class illustrates natural healing remedies
BY JOHN HORN
C & G STAFF WRITER
​
You've had worse things in your mouth

It may be a little early to start planning New Year's resolutions, but it's never too early to plan for better health.
Warren Consolidated Schools Community Education and the Butcher Community Center are doing just that with the inception of the new class "You've had worse things in your mouth."

Catchy title aside, the January 4 course promotes health through calculated dieting of unconventional foods and beverages that are good for the body.

They may taste strange or smell funny, but the benefits could raise a few eyebrows. Some examples the class will teach are:

Pure garlic. We all know its odor is strong and lingering, but it serves the human body well. It unclogs arteries, reduces high blood pressure, kills intestinal parasites, strengthens muscles, boosts hormone secretion and is packed with vitamins and minerals.

Apple cider vinegar. For those who enjoyed a cup or two during a trip to the cider mill this fall, grab some more next time in the market. It is high in potassium and helps relieve leg cramps.

Greens. Mom wasn't kidding around at the dinner table. Spinach, kale, mustard greens and turnip greens are good for the heart. They relax the muscles surrounding the organ, easing angina.

Ginger. The perfect companion not only for you, but for your travel mate on long trips. The root relieves motion sickness and lowers abdominal gas.

Cranberry juice. Nature's fuel injection cleaner. It helps to clear up urinary tract infections and helps flush out bad stuff, the way nature intended.

That is merely an abbreviated list of discussion topics for instructor Anton Anderssen and his students. The Warren resident and Cherokee Indian said the course is actually designed to teach students the art of making gift baskets.

"The class is about how to make gift baskets out of natural medicines that Native Americans use," Anderssen said.

Anderssen obviously knows what he's talking about. In addition to having taught Cherokee language in the Warren Consolidated Schools, he has taught several Native American studies course at area colleges.

Anderssen currently teaches in four colleges and 20 public school districts.

He said "You've had worse things in your mouth" is aptly named because many of natural healing ingredients he will discuss are less than tasty.

"Many of these things taste terrible" Anderssen said.

Forsaking taste, it appears the effectual aspects of the natural healing elements are what counts in this course. Anderssen said he believes the roots, berries an leafy greens promote physical health in a society looking for such at a typical time of the year.

People love to make resolutions in expectation for the new year and Anderssen said this course could serve as the perfect catalyst for commencing a healthy 1999.

"New Year's is a traditional time" Anderssen said. "People want to know how they can make their lives a little more healthy, people want to pick up a new habit."

For Anderssen, teaching others Native American traditions that may help them is not just a hobby or a career. Sharing ideas passed down from countless generations is a Cherokee mandate.

"I am a member of a tribe, and I am required by my tribe to promote our culture," Anderssen said. "I do that by teaching classes that relate to Cherokee people."

Anderssen's curriculum isn't just about food and language. He not only enlightens students in the ways of healing baskets, but can show students how to make soap from lavender, sage, and comfrey root.

He teaches classes about butterfly gardening where students learn what to plant in their garden that will make butterflies prosper.

"You've had worse things in your mouth" will be held January 4 at the Butcher Community Center, 27500 Cosgrove. For information on how to register, call (586) 574 3207.